August 31, 2023 — September 2, 2023
Review: Urban-Rural Assembly Symposium and Raumbild Planning Workshops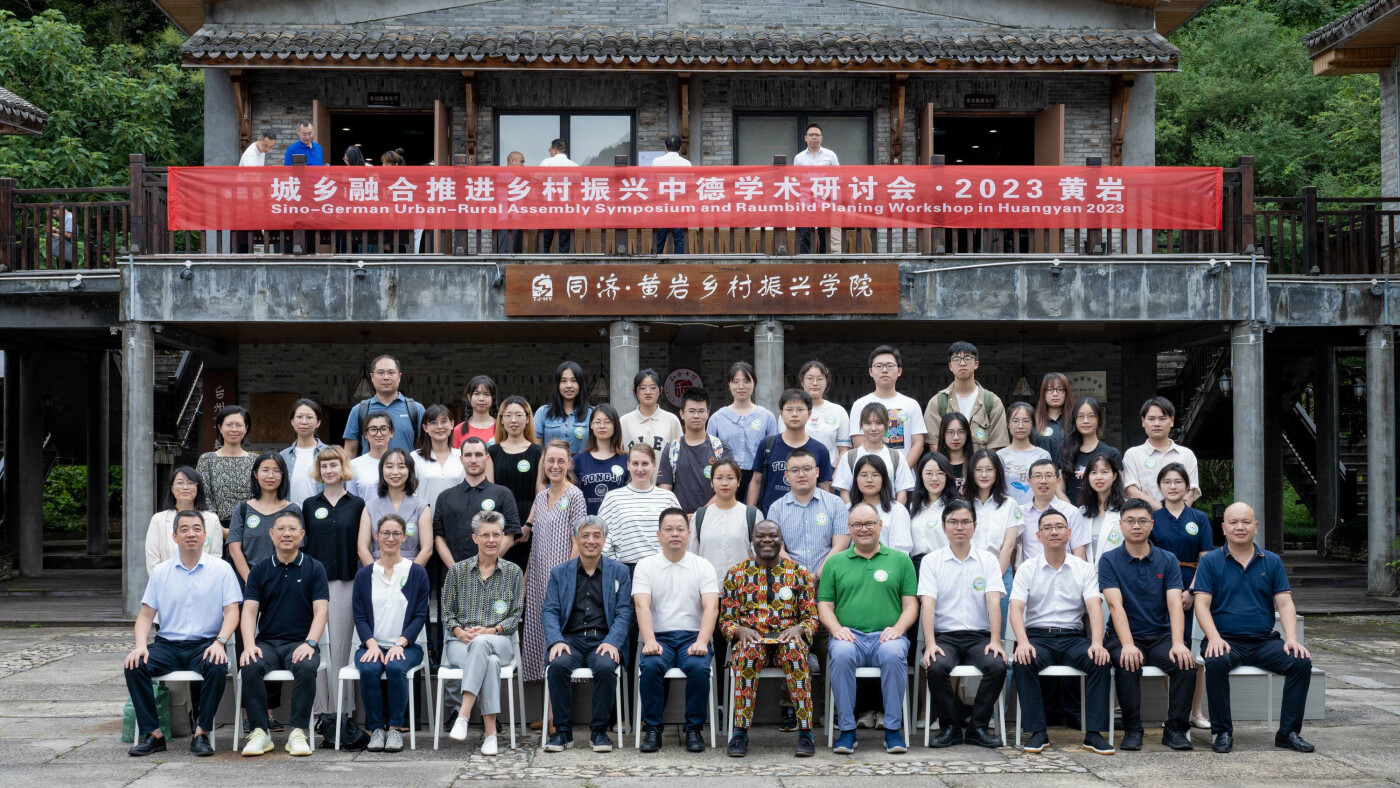 This summer, the URA research team met in Huangyan, Taizhou to hold the Urban-Rural Assembly Symposium and Raumbild Planning Workshops. The three-day event aimed to emphasise the significance of urban-rural relations in regional development, drawing insights from interdisciplinary URA research findings.

The keynote speech was delivered by Dr Remy Sietchiping, Head of the Policy, Legislation and Governance Division of UN-HABITAT, who mentioned that one of the important factors in linking urban and rural areas today is to promote the participation of multiple partners to jointly contribute to the development of urban and rural areas. Critically, the symposium and workshops acted as a platform to incorporate diverse local perspectives, demands, and ideas from various stakeholders by fostering discussions around the following key topics: material cycles and circular economies (in agriculture and industry); transformation of ecosystems and biodiversity; transformation of the (water) landscape; social inclusion and mobility at the urban-rural interface; and the interconnections between rural revitalisation, heritage conservation, and tourism.
Lastly, the event served as an initial testbed for applying and adapting participatory Raumbild planning methods in the context of Chinese regional governance, promoting collaborative and inclusive decision-making. The URA research team introduced the Raumbild approach to local and regional stakeholders using the Nordhausen planning process as a reference. The principles of this technique were outlined by showing the film Ein Raumbild für die Stadt-Land-Region Nordhausen that the URA team has developed to explain the process in an accessible and simple format for workshop participants. During three Raumbild planning workshops in three different locations, the URA research team and local participants discussed challenges and potentials in the research region, and later explored ideas for future strategies and concrete solutions for sustainable urban-rural development.
In summary, the "Urban-Rural Assembly Symposium and Raumbild Planning Workshops" event in Huangyan served as a model platform bringing together academic insight, practical application, community engagement, and international perspectives. The positive feedback from key local institutional and academic actors, as well as international actors such as UN-Habitat, demonstrated the promising prospects for such events to leave a lasting impact on the future of regional development in Huangyan and beyond. The implementation of Raumbild strategies in the Huangyan region thus showed potential to become a focal point for observers and researchers interested in the evolution of urban-rural development in similar contexts going forward.
With substantial support from the Huangyan District Government, the Urban-Rural Assembly Symposium and Raumbild Planning Workshops were jointly organised by URA project partners including Technical University of Berlin, Bauhaus University of Weimar, Leibniz Institute for Ecological Urban Development, Forward Planning and Research, Tongji University, Zhejiang University, Shanghai University, UN-Habitat, and ICLEI.
Programme
Event 1: Urban-Rural Assembly Symposium and Raumbild Planning Workshop
Date/Time: 31 August, Thursday, 9:00-17:00
Location: Rural Revitalization Institute, Shatan Village, Huangyan District, Taizhou City
Moderation
Dr. HUANG Huang, Tongji University
Welcome
XU Lihui, Deputy Secretary of Huangyan District Party Committee and Mayor of Huangyan District
DING Zhongchao, Deputy Director of Agricultural and Rural Bureau of Taizhou Municipality
Keynote
Dr. Remy Sietchiping, UN Habitat

Presentations
Prof. YANG Guiqing, Tongji Universtiy Shanghai
Prof. Anke Hagemann, Technische Universität Berlin
Dr. Maria Frölich-Kulik, Bauhaus University Weimar and Lukas Pappert, Technische Universität Berlin

Group Work Session with local stakeholders

Plenary Discussion

Conclusions
Prof. Dr. Sigrun Langner, Bauhaus-University, Weimar
Dr. Remy Sietchiping, UN-Habitat
Prof. Dr. Wolfgang Wende, IOER Dresden

Event 2: Raumbild Focus Workshop in Beiyang Town (Urban-Rural Living Lab #1)
Location: Qian Jiang Village Committee, Beiyang Town, Huangyan District, Taizhou City
Date/Time: 1 September, Friday, 14:30-17:30
Presentation
Dr. XIE Yuting

Group Work Session with local stakeholders

Plenary Discussion

Conclusions
Prof. Dr. Sigrun Langner, Bauhaus-University, Weimar
Dr. Remy Sietchiping, UN-Habitat
Event 3: Raumbild Focus Workshop in Xinqian Sub-District (Urban-Rural Living Lab #2)
Location: Smart Moulding Town, Huangyan District, Taizhou City
Date/Time: 2 September, Saturday, 14:30-17:30
Presentation
Dr. XIE Yuting

Group Work Session with local stakeholders
Conclusions
Prof. Dr. Sigrun Langner, Bauhaus-University, Weimar
Dr. Remy Sietchiping, UN-Habitat