May 4, 2023 — May 6, 2023
StadtLand – from Thuringia to a Planetary Perspective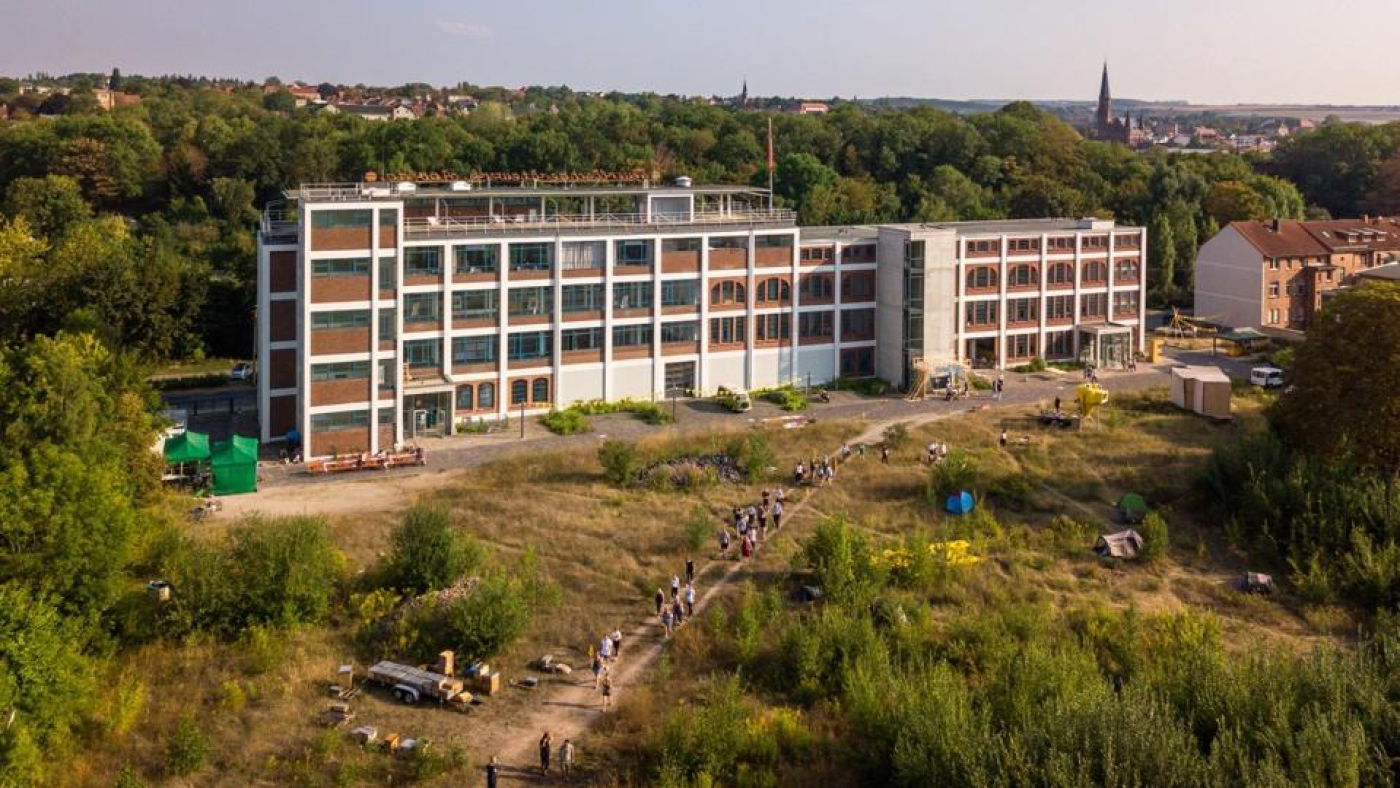 The International Building Exhibition (IBA) Thuringia and the Sino-German research project Urban Rural Assembly (URA) will jointly host the international conference "StadtLand – from Thuringia to a Planetary Perspective".
It will form part of the exhibition "Stadtland – Learning from Thuringia" in the iconic Eiermann building in Apolda, where the IBA will present the results of its decennial project development process. Since 2019, the URA project has been researching the development and planning of urban-rural interface regions in China and Germany.
Ongoing planetary urbanisation and interconnection require a 'Stadt-Land' perspective that focuses on the interrelationships and material cycles within larger territories, including urban and rural areas. In this context, 'rural' areas become a critical resource for a more circular and climate-friendly future development. The Stadt-Land perspective thus calls for new societal practices fostering solidarity in land use, in addition to more resource-efficient construction and economic activities.
To this end, IBA and its local partners have implemented model projects in Thuringia, whilst URA has investigated rapid socio-spatial transformation processes which characterise an urban-rural region in the Chinese province of Zhejiang. Both projects work with 'living labs' that support the development of strategies and tools for future change.
The conference opens new avenues of thought and action – from current urbanisation tendencies in Thuringia and numerous other regions worldwide to spatial visions and planning strategies toward sustainable urban-rural interrelations.
We invite you to come to Apolda to hear more and to connect with international researchers and practitioners working on this topic in person. The conference will take place in German and English. A live-streaming option will be available.
May 4th 2023, 16:00 - 18:30: IBA Kick-off
May 5th 2023, 09:00 - 16:30: International Conference
May 6th 2023, 09:30 - 18:15: Excursion to IBA Projects in Stadtland Thuringia
Speakers include: Kenneth Anders, Bad Freienwalde; Hillary Angelo, Santa Cruz; Marta Doehler-Behzadi, Apolda; Bianca Elzenbaumer, Rovereto; Maria Frölich-Kulik, Weimar; Yang Guiqing, Shanghai; Anke Hagemann, Berlin; Susanna Karawanskij, Erfurt (tbc); Sigrun Langner, Weimar; Philipp Misselwitz, Berlin; Steffen Nijhuis, Delft; Lukas Pappert, Berlin; Kelly Shannon, Leuven; Remy Sietchieping, Nairobi; Antje Stokman, Hamburg; Milica Topalovic, Zürich
Final Programme
International Conference: "StadtLand - From Thuringia to a planetary perspective"
Conference and exhibition venue: Eiermannbau, Auenstr. 11, D-99510 Apolda
Thursday May 4th, 2023
16:00-18:30
Moderator: Dr. Codelia Polinna
Welcome and Introduction
- Klara Geywitz, Federal Minister BMWSB
- Bodo Ramelow, Minister-President, State of Thuringia
- Marta Doehler-Behzadi, Director, IBA Thüringen
Keynote
- Philipp Misselwitz, Bauhaus Earth, Berlin
- Remy Sietchieping, UN Habitat, Nairobi
Opening IBA Exhibition
Friday May 5th, 2023
09:00-16:30
Moderator: Dr. Codelia Polinna
Welcome and Introduction/Video Message
- Susanna Karawanskij, Minister for Infrastructure and Agriculture of Thuringia
Session I - StadtLand
»Environments of Planetary Urbanization: Sustainable Development Across Country and City«
Hillary Angelo, UC Santa Cruz
»Urbanisation of Agricultural Territories and Food Democracy«
Milica Topalovic, ETH Zürich
»Towards a Landscape-based Regional Design Approach for Adaptive Urban Transformation in the Pearl River Delta«
Steffen Nijhuis, TU Delft
Discussant:
Anke Hagemann, TU Berlin
Session II - Strategies
»StadtLand: Concept and Project space of IBA Thuringia«
Marta Doehler-Behzadi, IBA Thüringen, Apolda
»Accentuating Indigenous Logics in Regional Vision-building: Learning from the Mekong Delta«
Kelly Shannon, KU Leuven
»How to Raumbild? – Dealing with Multiple Perspectives on Regional Transformation Processes«
Maria Frölich-Kulik, Bauhaus-Universität
Weimar and Lukas Pappert, TU Berlin
Discussant:
Antje Stokman, HCU Hamburg
Session III - Actions
»Urban-Ruralism and Spatial Strategies: Understanding and Practicing Rural Regeneration in Huangyan, China«
Guiqing Yang, Tongji University, Shanghai
»Contemporary Commoning Practices in the Italian Alps«
Bianca Elzenbaumer, Brave New Alps, Rovereto
»The Dialectic between Inside and Outside. Insights into a Form of Cultural Regional Development«
Kenneth Anders, Oderbruch Museum Altranft, Bad Freienwalde
Discussant:
Sigrun Langner, Bauhaus-Universität Weimar
Saturday, May 6th 2023
9:30-18:15
Excursion to IBA project
For the guests who can not attend in person in Apolda, please follow the sessions on the main conference day (Friday, May 5th) online via Zoom:
https://us06web.zoom.us/j/83707440210?pwd=WEF0MWJ1dlVSOWZwdHZ4TEpVaVBmUT09
code: 554374
For more information please see
For conference registration, please use the link below: